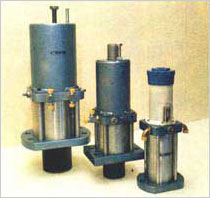 Equipment
Reliable and solid
Interform's system of hydraulic jacks is extremely reliable. It requires minimal maintenance and is simple to handle when running the mould. The jacks are individually adjustable, and a water levelling system is used to indicate the level of each jack. Our customers consider the Interform sliding formwork system to be the best system available on the market. Our hydraulic jacks are made for work capacities of three, six and twelve tons. The jacks use two ball grips to attach to the scaffolding – a feature unique to Interform jacks. The lifting height of each jack can be adjusted individually, which makes it possible to move the mould with a high degree of accuracy.

Our 6-ton jacks are usually used for high conical constructions and for handling heavy loads. Our 3-ton jacks are normally used on straight constructions and for normal loads.

We have developed a special sliding formwork system for conical designs, and over the years this has been used for the sliding casting of more than a million square metres of pipe and tower surfaces.

The Interform system provides the following benefits:
Reduction in diameter of more than 50% for conical constructions.
Major opportunities for reduction of wall thickness.
The option to adjust the angle of a wall continuously. This can be adapted to almost all mouldings.
Accurate circular cross-section set automatically in a secure manner.
The security and reliability of the system for running the mould are primarily achieved by using hydraulic cylinders to control the mould screws.