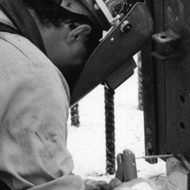 Sliding formwork
Fast and economical
Sliding formwork is a fast and economical construction method which can be used to great advantage on numerous types of projects such as stairwells and lift shafts, walls, pipes, silos, radio and TV towers, LNG tanks, bridge supports, caissons and wind turbines.

Teknikken er basert på flyttbare former som løftes av hydrauliske jekker. Jekkene klatrer på spesielle klatrestål som skjøtes etterhvert som formen glir oppover.

The technique is based on moveable moulds that are lifted by hydraulic jacks. The jacks climb up special scaffolding, which is gradually moved as the mould slides over it. This is a continuous process in which wet concrete is mixed with wet concrete. The reinforcement and/or post-tensioning cables are fitted at the same time as the mould climbs. From a suspended platform directly below the mould, the concrete surface that appears under the mould can be tiled and brushed before the concrete hardens.